The Dagger Club is the 1st episode of series 17 and the 101st episode overall. 
The unveiling of a newly-discovered novel by deceased Midsomer crime-writer George Summersbee at the Luxton Deeping Crime Festival is jeopardised when the manuscript is stolen and a woman is fatally electrocuted by a booby-trapped roulette wheel. Can new dad Barnaby untangle a web of jealousy and obsession to find the killer?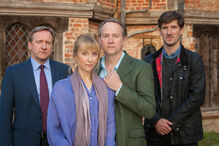 Characters:
DCI John Barnaby
Sarah Barnaby
Betty Barnaby
Sykes Barnaby
DS Charlie Nelson
Dr. Kate Wilding
Guest Cast:                                               Actors & Actresses
George Summersbee

-Grant Russell

Dr. Nick Summersbee

-Adam Kotz

Bella Summersbee

-Georgia Taylor

Jeannie Summersbee

-Charlotte Cornwell

Rob Mead

-Kobna Holdbrook-Smith

Maggie Markham

-Lia Williams

Curtis Braylesford

-Ed Birch

Audrey Braylesford

-Una Stubbs

Silas Raven

-James Lance

Miles Rattigan

-Simon Kunz

Vincent Treaborne

-Timothy Watson

Niall Colebrooke

-Howard Ward

Suzie Colebrooke

-Oona Kirsch

Cecilie Peterson

-Liberty Mills
Mark Sampson
Notes
Starring Neil Dudgeon Fiona Dolman Gwilym Lee  and Tamzin Malleson and guest stars georgia Taylor Charlotte Cornwell Adam Kotz  Lia Williams Una Stubbs and James Lance.