The Christmas Haunting is the 1st episode of Series sixteen and the 96th Episode Overall.
DCI Barnaby and DS Nelson investigate the fatal stabbing of a man with an antique sword during a ghost-hunting party at a 'haunted' manor house. Is blacksmith's daughter Rose Wilton seeking revenge from the beyond the grave, or can Barnaby and Nelson find a more earthly motive behind the murder and trap the killer?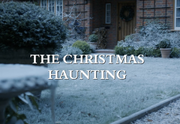 Characters:
DCI John Barnaby
Sarah Barnaby
Sykes
DS Charlie Nelson-Gwilym Lee
DI Ben Joens
Dr. Kate Wilding
Guest Cast:                                         Actors & Actresses
Simon Fergus-Johnson

-Mark Heap

Tabby Fergus-Johnson

-Nadia Cameron-Blakey

Valerie Fergus-Johnson

-Emily Joyce

Pippa Fergus-Johnson

-Hannah Tointon
Mr. Fergus-Johnson

Brendan Pearce

-Les Dennis

Liberty Pearce

-Elizabeth Berrington
Debbie Pearce

Conor Bridgeman

-Jonah Russell

Melanie Bridgeman

-Susie Trayling

Ross Clymer

-Paul Blair

Major Ollie Tabori

-James Murray

Felicity Hearn

-Perdita Avery

Dev Kardek

-Nikesh Patel
Rose Wilton
Notes
Starring Neil Dudgeon Fiona Dolman Tamzin Malleson & Guest Stars Les Dennis Emily Joyce Mark Heap Nadia Cameron-Blakey Elizabeth Berrington & James Murray-First Appearance Of  Gwilym Lee As D.S. Charlie Nelson in this episode jones is in brighton and he sends a christmas card to the barnabys and he was Promoted To D.I. and also his wife sarah is excepting a baby.