Strangler's Wood is the 2nd episode of series two and the 7th episode Overall.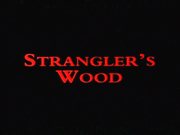 Barnaby is hoping for some father-daughter bonding with Cully while Joyce is away nursing her sick mother. However his hopes soon fade when a naked woman is discovered strangled by a tie round her neck in woodland, where three women were murdered in the same fashion nine years before. Barnaby, with the help of Sergeant Troy, has to decide whether it's the same murderer back with a vengeance or if someone else is pulling their own evil strings.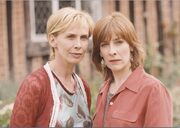 Characters:  
       DCI Tom Barnaby
Joyce Barnaby
Cully Barnaby
DS Gavin Troy
PC Kevin Angel
Dr. Dan Peterson-Toby Jones
Guest Cast:                                                     Actors & Actresses
John Merrill

-Nick Farrell

Kate Merrill

-Phyllis Logan

David Merrill

-Tom Eilenberg

Bill Mitchell

-Jeremy Clyde
Leonard Pike-Peter Eyre

Dorothea Pike

-Kathleen Byron

Elizabeth Frances

-Trudie Styler

Anna Santarosa

-Debbie Chazen

Gloria Bradley

-Katy Brittain
George Meakham-Frank Windsor

Emily Meakham

-Anne Stallybrass

Carla Constanza

-Betty Romani

Sebastian Renwick

-Cyril Shaps 
Dr. Ian Aycott

Darren

-Anthony Howes
Path Lab Asst.-Rebecca Charles
Eva Hoffman
Joan Chaplin
Judith Albiston
Brazilian Bandit-George Lane Cooper
Notes
Starring John Nettles Jane Wymark Laura Howard Daniel Casey & Guest Stars Jeremy Clyde Nick Farrell Phyllis Logan Peter Eyre Kathleen Byron Trudie Styler & Frank Windsor-First Appearance Of Dr. Dan Peterson.