Small Mercies is the 5th episode of series 12 and the 71th Episode Overall.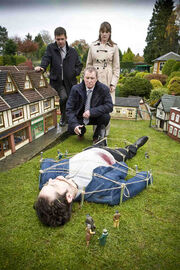 In the village of Little Worthy, Bob Moss goes to open up his beloved model village to find a gruesome extra attraction. Young local Richard Tanner has been stabbed in the side and his corpse tied down like Gulliver in Lilliput. There's also the Crazy Craft race to look forward too for the villagers.
Characters:
DCI Tom Barnaby
Joyce Barnaby
DS Ben Jones
WDC Gail Stephens
Dr. George Bullard
Guest Cast:                                            Actors & Actresses
Robert Moss

-David Ryall

Edward Palfrey

-Paul Bentall

Christa Palfrey

-Matilda Sturridge
Anne-Marie Palfrey

Hilary Compton

-Caroline Blakiston

Michael Johnson

-Jesse Birdsall

Jackie Tanner

-Sanchia McCormack

Richard Tanner

-Jamie Treacher

Harriet Compton

-Margaret Tyzack
'

Bernice

'-Olivia Colman

Rebecca Rix

-Emma Stansfield

Annabel Johnson

-Abigail Thaw

Steve Dove

-Ian Targett

Kate Dove

-Michelle Butterly
Mary
Notes
Starring  John Nettles Jane Wyamrk Jason Hughes  Barry Jackson & Guest Stars Paul Bentall Caroline Margaret Tyzack Blakiston David Ryall Olivia Colman Abigail Thaw & Jesse Birdsall.