1860 Ring Out Your Dead is the 1st episode of series five and the 20th episode overall.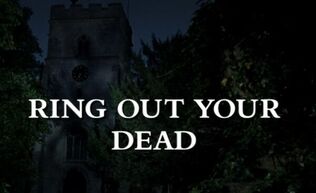 A cute new member distracts some of the bell ringers of Midsomer Wellow from concentrating on the upcoming striking competition, but they still manage to place a group bet on a horse called Ring-A-Ding, which wins them £30,000. This combination of gambling and church bell ringing enrages some residents of the village. When one of the ringers is found in the tower, shot through the heart and clutching the ironic words "Ding Dong Bell", Barnaby is not amused.
Characters:
DCI Tom Barnaby
Joyce Barnaby
DS Gavin Troy
Guest Cast:                                                Actors &  Actresses
Maisie Ebbrell/Gooch

-Gemma Jones

Dennis Ebbrell

-Harry Burton

Jen Ebbrell

-Caroline Lintott
Rev. Jonathan Ebbrell

Peter Fogden

-Adrian Scarborough
Gordon Fogden
Ray Fogden

Frances Le Bon

-Gwen Taylor
Tony Le Bon

Liam Brooker

-Seamus Whitty

Gregory Tutt

-Dugald Bruce Lockhart

Susan Tutt

-Clare Holman

Wing Commander Reginald Barton

-Graham Crowden

Hugh Barton

-Hugh Bonneville

Emma Tysoe/Brooker

-Lyndsey Marshal

Marcus Steadman

-Jamie De Courcey

Rosalind Parr

-Carmen Du Sautoy

Angie Blunstone

-Julia Swift

Judge

-Steven Pimlott
BIshop Trevor Conway
Notes
Starring John Nettles Jane Wymark & Daniel Casey & Guest Stars Gemma Jones Adrian Scarborough Gwen Taylor Clare Holman Carmen Du Sautoy Graham Crowden Hugh Bonneville & Julia Swift.