1955
Judgement Day is the 3rd episode of series 3 and the 12th episode overall.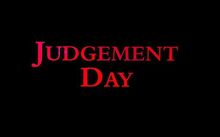 Joyce Barnaby has won a competition to become a judge on the "Perfect Village" panel. However, one of the villages to be judged, Midsomer Mallow, believes its chances are scuppered after local thief Peter Drinkwater 

is found dead with a pitchfork in his chest following a recent burglary. As he had many enemies, Barnaby and Troy, have a long investigation ahead of them, and as the competition draws ever closer, the relationships and secrets between the villagers start to unravel themselves. Things get muddier in the case when the judges of the competition

start dropping dead without warning...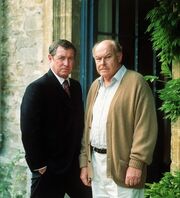 Characters: 
DCI Tom Barnaby 
Joyce Barnaby 
Cully Barnaby 
DS Gavin Troy 
Dr. Dan Peterson 
Nico Bentley 
Guest Cast:                        Actors & Actresses
Marcus Devere

-Timothy West 

Annabel Weston/Bella Devere

-

Emily Canfor-Dumas/

Hannah Gordon 

Caroline Devere

-Chloe Tucker 

Peter Drinkwater

-Orlando Bloom 

Mary Drinkwater

-Barbara Jefford

Gordon Brierly

-Richard Hope 

Laura Brierly

-

Marsha Fitzalan

Ray Dorset

-Bill Thomas

Jack Dorset

-

Tobias Menzies

Samantha Johnstone

-Josephine Tewson 

Rosemary Furman

-Maggie Steed 

Edward Allardice

-Moray Watson 

Frank Mannion

-Nickolas Grace 

Jane Rochelle

-

Shelagh Fraser

Michael Weston

-Richard Trinder 

Ruth Weston

-Caroline Faber 

Mrs. Foster

-Marlene Sidaway 

Dr. Mark Sellers

-Robert Goodale 

Alex James

-Dominic Childs 

Alderman

-Malcolm Rennie 

James

-

Cassian Horowitz

Annabel Cross
Notes:
Dr. Dan Petersons Final Episode.