Dead Letters is the 2nd episode of Series nine and the 45th episode overall.
The mother of a deceased one-time carnival queen is found dead in a stream, and once again Barnaby has to dig up the past to solve the case. Barnaby is convinced he has seen two people from an earlier mystery (The Killings at Badger's Drift) around the village. But the people in question were brutally murdered - is Barnaby seeing ghosts?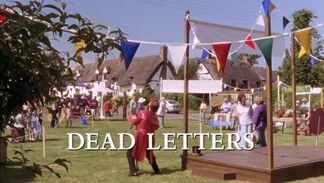 Characters:
Guest Cast:                                               Actors & Actresses 
Notes 
Starring John Nettles Jane Wymark Jason Hughes Barry Jackson & Guest Stars Elizabeth Spriggs Richard Cant Sophie Thompson Simon Callow David Bamber Caroline Goodall & Tom Georgeson also iris and dennis rainbirds cousin appear in this episode ursula and alistair gooding who where brutally murdered years ago.