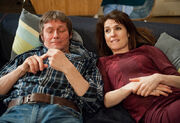 The police arrive to question 

Jimmy

 and 

Carly

 over the break-in at 

Sunil

's. 

Rhona

is uneasy at 

James

's tone regarding 

Paddy

 and 

Chas

. On hearing more facts, James is even more suspicious of their relationship. 

Chrissie

 and her ex 

Donny

bicker when he arrives to see 

Lachlan

. James makes accusations to Chas, leaving her reeling by his words. 

Jacob

 goes to see 

Rakesh

, enquiring about the costs for his lawyer services. He explains that he was the one who smashed up

Home Farm

 and he now wants go to the police. 

Debbie

 warns Jimmy that he better not have got 

Charity

's business into trouble when they return from the police station. James bumps into 

Emma

 and admits that he's had an argument with Chas. Emma almost can't contain her delight and is determined to meddle further and invites him back for a drink. Chrissie is stressed as she tells Donny what Lachlan has done, but asks Donny to keep up her lie about not being able to make court. James confides in Emma over his relationship problems with Chas. 

Alicia

 and 

David

 arrive to collect Jacob from Rakesh, but he is still determined to confess to the police and Alicia is torn over what to do for the best. Carly continues to ruffle feathers and finds herself in a heated argument with Debbie which 

Bob

 has to drag her away from. Lachlan's delighted when he arrives home to find Donny is staying for a while.

Robert

 suggests he book himself into the 

B&B

 but is irritated when 

Lawrence

 invites him to stay at the house and Chrissie agrees. Bob argues with Carly over her behaviour. As Carly turns her insults on 

Brenda

, Bob tells her to pack her things and get out. Emma continues to ply James with alcohol and the pair comment on how nice a time they're having together. Emma tells him that she misses him and they kiss
Characters:
Donny Cairn-Alan Convy 
PC Bishop 
Notes: 
First Episode For Donny Cairn.